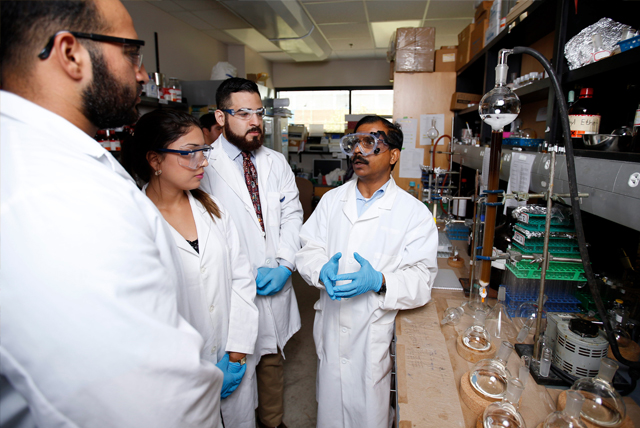 Publication Date
12-23-2014
Abstract
A huge number of compounds are widely distributed in nature and many of these possess medicinal/biological/pharmacological activity. Curcumin, a polyphenol derived from the rhizomes (underground stems) of Curcuma longa Linn (a member of the ginger family, commonly known as turmeric) is a culinary spice and therapeutic used in India for thousands of years to induce color and flavor in food as well as to treat a wide array of diseases. The origin of turmeric as spice and folklore medicine is so old that it is lost in legend. Curcumin has many beneficial pharmacological effects which includes, but are not limited with, antimicrobial, anti-inflammatory, antioxidant, antiviral, antiangiogenic, neurodegenerative diseases such as Alzheimer disease, and antidiabetic activities. Most importantly curcumin possesses immense antitumorigenic effect. It prevents tumor invasion and metastasis in a number of animal models, including models of lung, liver, stomach, colon, breast, esophageal cancer etc. Invasion and metastasis are considered as one of the hallmarks in cancer biology. The pertinent recent applications of curcumin as anti-invasive and antimetastatic agent in in vitro and in vivo and ex vivo studies as well as associated molecular mechanisms have been discussed in this review. Curcumin has also demonstrated the ability to improve patient outcomes in clinical trials.
Recommended Citation
Bandyopadhyay, D. (2014). Farmer to pharmacist: Curcumin as an anti-invasive and antimetastatic agent for the treatment of cancer. Frontiers in Chemistry, 2. https://doi.org/10.3389/fchem.2014.00113
Creative Commons License


This work is licensed under a Creative Commons Attribution 4.0 International License.
Publication Title
Frontiers in Chemistry
DOI
10.3389/fchem.2014.00113