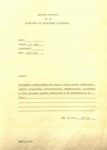 Identifier
BD0025-L-E-1056
Disciplines
Diplomatic History | History | Latin American History | Military History | Political History | United States History
Description
Military expedition commanded by General Manuel Mier y Teran is sent to Texas to safeguard the territorial borders against the threat of American and Spanish invasions. The governors of the northern states militarily support the expedition (Section 1). p. 1-98.
Reports from the Mexican Embassy in the United States to the Secretary of Foreign Affairs regarding: the sale of land to Americans in Texas by the governor of Coahuila, plan of acquisition and colonization of the province by the United States of America and political hostility between Cuba and Mexico (Section 2). p. 99-114.
Report from the Mexican Embassy in England to the Minister of Foreign Affairs concerning a meeting between Manuel Eduardo de Gorostiza and Lord Alberdeen about plans in the United States of America to acquire Texas (Section 3). p. 115-122.
European colonization of Texas. Correspondence from C. Tadeo Ortiz, Mexico's consul in Bordeaux, France, on the colonization of Texas and Coatzacoalcos (Section 4). p. 123-173.
Explorations made in the territory of Texas by the explorer Alejandro Le Grand. Copy of the notes (Section 5). p. 174-183.
Reports from the military commander General Manuel de Mier y Teran to the Foreign Secretary on the security measures taken in Texas in case of a revolt of the American colonists (Section 6). p. 184- 191
Physical Description
.PDF, 198 Pages, 187 MB
Recommended Citation
La Guerra de Texas y La Guerra Mexico - Estados Unidos, UTRGV Digital Library, The University of Texas – Rio Grande Valley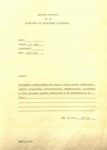 COinS