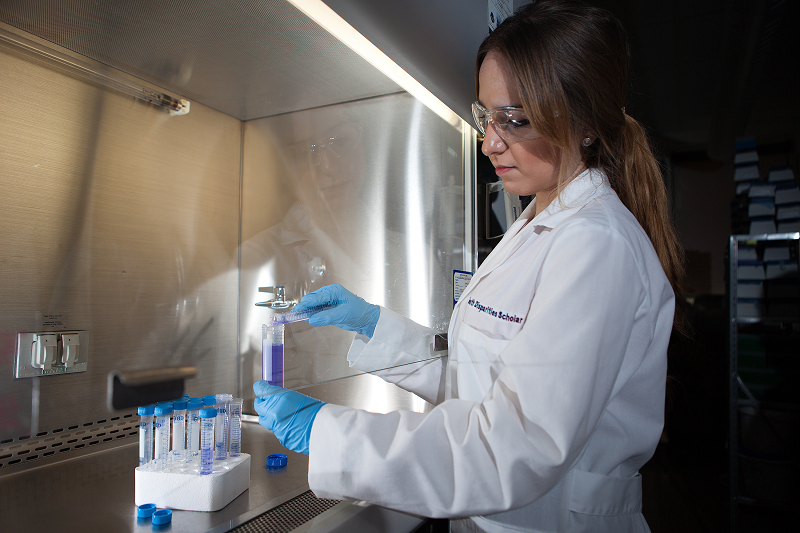 Publication Date
8-3-2016
Abstract
Cervical cancer affects millions of Americans, but the rate for cervical cancer in the Mexican American is approximately twice that for non-Mexican Americans. The etiologies of cervical cancer are still not fully understood. A number of somatic mutations, including several copy number alterations (CNAs), have been identified in the pathogenesis of cervical carcinomas in non-Mexican Americans. Thus, the purpose of this study was to investigate CNAs in association with cervical cancer in the Mexican American population. We conducted a pilot study of genome-wide CNA analysis using 2.5 million markers in four diagnostic groups: reference (n = 125), low grade dysplasia (cervical intraepithelial neoplasia (CIN)-I, n = 4), high grade dysplasia (CIN-II and -III, n = 5) and invasive carcinoma (squamous cell carcinoma (SCC), n = 5) followed by data analyses using Partek. We observed a statistically-significant difference of CNA burden between case and reference groups of different sizes (>100 kb, 10–100 kb and 1–10 kb) of CNAs that included deletions and amplifications, e.g., a statistically-significant difference of >100 kb deletions was observed between the reference (6.6%) and pre-cancer and cancer (91.3%) groups. Recurrent aberrations of 98 CNA regions were also identified in cases only. However, none of the CNAs have an impact on cancer progression. A total of 32 CNA regions identified contained tumor suppressor genes and oncogenes. Moreover, the pathway analysis revealed endometrial cancer and estrogen signaling pathways associated with this cancer (p < 0.05) using Kyoto Encyclopedia of Genes and Genomes (KEGG). This is the first report of CNAs identified for cervical cancer in the U.S. Latino population using high density markers. We are aware of the small sample size in the study. Thus, additional studies with a larger sample are needed to confirm the current findings.
Recommended Citation
Torabi, A., Ordonez, J., Su, B. B., Palmer, L., Mao, C., Lara, K. E., Rubin, L. P., & Xu, C. (2016). Novel Somatic Copy Number Alteration Identified for Cervical Cancer in the Mexican American Population. Medical sciences (Basel, Switzerland), 4(3), 12. https://doi.org/10.3390/medsci4030012
Creative Commons License


This work is licensed under a Creative Commons Attribution 4.0 International License.
Publication Title
Medical Sciences
DOI
10.3390/medsci4030012