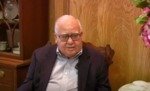 Title
Eligio (Kika) de la Garza - Part 01
Description
0:00 Introduction
0:30 Background information – where you born?
1:00 Can you talk a little bit about your family (mother, father, brothers/sisters)?
2:00 First years in School
3:00 Kika lived with his uncles while he was studying at Mission, Texas.
4:20 How did you get the nickname "Kika"?
6:00 Can you tell us some childhood memories that you think about right now?
8:00 Neighborhood friends and the Edinburg canal.
11:00 How long were you in the Navy?
12:00 What kind of influences did you have while you were growing up (people, grandmother, uncles)?
12:30 Kika's uncles – main and great influences to his life
14:00 Were you were in any type of sport when you were in Mission High school?
15:00 Football and basketball player.
17:30 Kika did his associate at Edinburg Pan American University and then went to Saint Mary at San Antonio, Texas to start his law school degree.
18:50 Can you just give us an idea about what has changed the most in the Valley since you were growing up compared to nowadays?
21:15 How old do you were when you joined the Navy?
22:00 Kika's experiences at the Navy.
31:00 Divisions at the Navy.
35:00 Kika, back from the Navy continues his studies at Saint Mary at San Antonio.
36:30 Why did you decide it to study law?
36:40 Kika grew up in a political family.
40:00 Kika ran for the legislature.
45:00 Legislature facts.
51:00 While you were in the Texas legislature, did you work on any agriculture issues?
52:00 Is anything else you want to mention or add regarding to the Texas legislature?
Recommended Citation
Rio Grande Valley Oral Histories Collection; Eligio (Kika) de la Garza - Part 01, 2009/07/16. ELIBR-0027. University Library, Special Collections and University Archives, University of Texas Rio Grande Valley, Edinburg, TX. Accessed via https://scholarworks.utrgv.edu/rgvoralhistories/538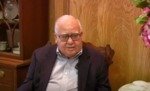 COinS