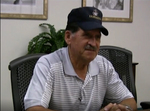 Title
Files
Download
Download Oral History (4060.4 MB)
Description
Agustin Garcia (b. 1942) was interviewed by Charles J. Ellard for the "Veterans History Project 2009" on October 9 2009 at the Dustin M. Sekula Memorial Library. The interview was video recorded by Jaime Cardoza.
Mr. Cantu speaks about his military service in the U.S. Marine Corps in the 1960s.
Format
.MP4, 1080p, 4.16 GB
Notes
Original VOB files (3 parts) saved to DVD-R. Converted to MP4 using Adobe Media Encoder. Rendered as one MP4 file using Adobe Premiere Pro.
Recommended Citation
Rio Grande Valley Oral Histories Collection; Augustin Garcia, 2009/10/09. ELIBR-0027. University Library, Special Collections and University Archives, University of Texas Rio Grande Valley, Edinburg, TX. https://scholarworks.utrgv.edu/rgvoralhistories/546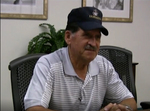 COinS