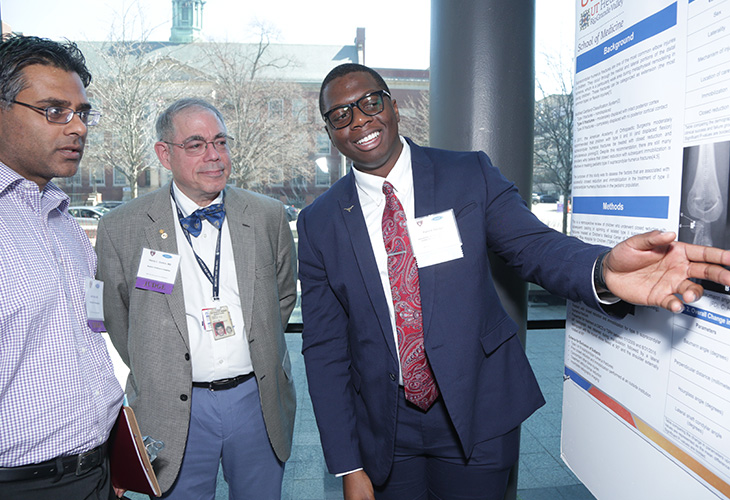 Publication Date
9-1-2022
Abstract
Introduction
Periprosthetic joint infection (PJI) is a major complication after total knee arthroscopy. Enterobacter is a rare cause of PJI.
Case presentation
We present a 65 year old Caucasian man who presented with acute right knee PJI with Carbapenem-resistant Enterobacteriaceae (CRE) two months after undergoing right knee intra-articular mass removal with endoprosthetic reconstruction. The periprosthetic joint infection (PJI) was treated with revision with 1-stage static spacer and IV meropenem.
Discussion
CRE is an uncommon cause of PJI, but when it does occur, it commonly infects patients who are immunosuppressed or have specific risk factors. For an immunocompetent patient with CRE PJI, we suggest further workup for other systemic disease.
Conclusion
This case demonstrates the importance of early diagnosis and treatment of CRE joint infections and the need for a multidisciplinary approach that includes aggressive surgical intervention and tailored antimicrobial therapy.
Recommended Citation
Adams, J. P., Habenicht, D., & Ramsey, D. (2022). Periprosthetic knee infection after benign tumor excision complicated by carbapenem resistant Enterobacteriaceae: A case report. Annals of Medicine and Surgery, 81, 104292. doi.org/10.1016/j.amsu.2022.104292
Publication Title
Annals of Medicine and Surgery
DOI
10.1016/j.amsu.2022.104292
Academic Level
medical student
Mentor/PI Department
Surgery