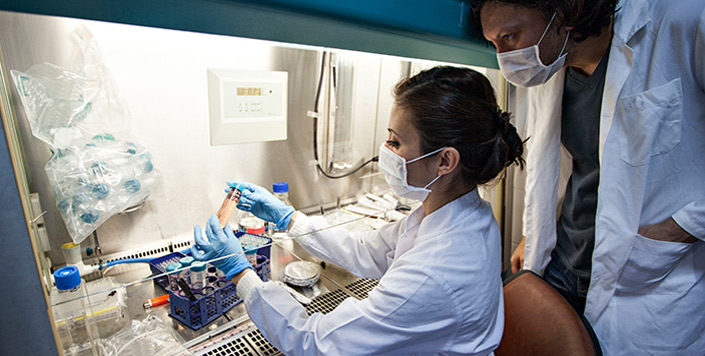 Publication Date
11-5-2020
Abstract
Objective: To determine whether the punctuated administration of low-dose rituximab, temporally linked to B-cell hyperrepopulation (defined when the return of CD19+ B cells approximates 40%-50% of baseline levels as measured before alemtuzumab treatment inception), can mitigate alemtuzumab-associated secondary autoimmunity.
Methods: In this hypothesis-driven pilot study, 10 patients received low-dose rituximab (50-150 mg/m2), a chimeric anti-CD20 monoclonal antibody, after either their first or second cycles of alemtuzumab. These patients were then routinely assessed for the development of autoimmune disorders and safety signals related to the use of dual monoclonal antibody therapy.
Results: Five patients received at least 1 IV infusion of low-dose rituximab, following alemtuzumab therapy, with a mean follow-up of 41 months. None of the 5 patients developed secondary autoimmune disorders. An additional 5 patients with follow-up over less than 24 months received at least 1 infusion of low-dose rituximab treatment following alemtuzumab treatment. No secondary autoimmune diseases were observed.
Conclusions: An anti-CD20 "whack-a-mole" B-cell depletion strategy may serve to mitigate alemtuzumab-associated secondary autoimmunity in MS by reducing the imbalance in B- and T-cell regulatory networks during immune reconstitution. We believe that these observations warrant further investigation.
Classification of evidence: This study provides Class IV evidence that for people with MS, low-dose rituximab following alemtuzumab treatment decreases the risk of alemtuzumab-associated secondary autoimmune diseases.
Recommended Citation
Meltzer, E., Campbell, S., Ehrenfeld, B., Cruz, R. A., Steinman, L., Parsons, M. S., Zamvil, S. S., Frohman, E. M., & Frohman, T. C. (2020). Mitigating alemtuzumab-associated autoimmunity in MS: A "whack-a-mole" B-cell depletion strategy. Neurology(R) neuroimmunology & neuroinflammation, 7(6), e868. https://doi.org/10.1212/NXI.0000000000000868
Creative Commons License


This work is licensed under a Creative Commons Attribution-NonCommercial-No Derivative Works 4.0 International License.
Publication Title
Neurology(R) neuroimmunology & neuroinflammation
DOI
10.1212/NXI.0000000000000868
Mentor/PI Department
Neurology