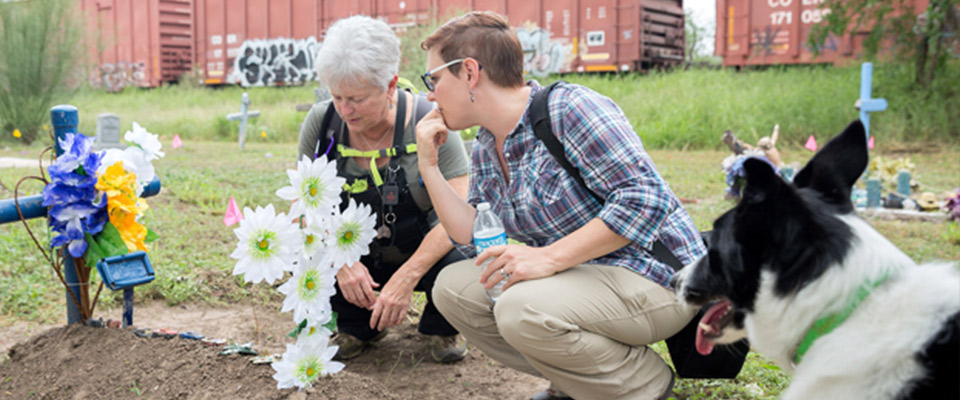 Submissions from 2023
The Lingering Ache: Temporalities of Oral Health Suffering in United States-Mexico Border Communities, William A. Lucas, Heide Castañeda, and Milena A. Melo
Investigación Arqueológica: Sitio Buen Suceso, Comuna Dos Mangas, Provincia de Santa Elena. Informe Preliminar. Temporada 2022., Sarah M. Rowe, Guy S. Duke, Sara L. Juengst, and Daniela Balanzátegui
Submissions from 2022
Messengers of justice: social network analysis of public relations support for migrants, Guadalupe Correa-Cabrera, Cindy Azucena Gómez-Schemppb, Naoru Koizumi, Rajendra Kulkarni, and William Yaworsky
Book Review - Trowels in the Trenches: Archaeology as Social Activism, Edward González-Tennant
Trowels in the Trenches: Archaeology as Social Activism edited by Christopher P. Barton, Gainesville, FL, University Press of Florida, 2021, xii + 251 pp., $85.00 (hardcover), ISBN: 9780813066738., Edward González-Tennant
Investigación Arqueológica: Sitio Buen Suceso, Comuna Dos Mangas, Provincia de Santa Elena. Informe Preliminar. Temporada 2019, Sarah M. Rowe, Guy S. Duke, and Daniela Balanzátegui
Field Research in the Era of the Islamic State and Trump, William Yaworsky, Dawid Wladyka, and Katarzyna Sepielak
Submissions from 2021
Communities in Motion: Peripatetic Households in the Late Moche Jequetepeque Valley, Peru, Guy S. Duke
Medical Anthropology Teaching at the National Autonomous University of Mexico Medical School: A Reflexive Analysis of Programmatic Development, Challenges, and Future Directions, Alfredo Paulo Maya and Rosalynn A. Vega
Making the Exotic Mundane: The Manila Galleon, the Flota, and Globalization, Russell K. Skowronek
Making the Exotic Mundane: The Manila Galleon, the Flota, and Globalization, Russell K. Skowronek
Submissions from 2020
Buen Suceso: A New Multicomponent Valdivia Site in Santa Elena, Ecuador, Sarah M. Rowe and Guy S. Duke
Changing Birth in the Andes: Culture, Policy and Safe Motherhood in Peru. Guerra‐Reyes, Lucia. Nashville: Vanderbilt University Press, 2019., Rosalynn A. Vega
Privileges of Birth: Constellations of Care, Myth, and Race in South Africa. Rogerson, Jennifer J. M., New York: Berghahn Books, 2020, 200 pp., Rosalynn A. Vega
"Traditional Mexican Midwifery" tourism excludes indigenous "others" and threatens sustainability, Rosalynn A. Vega
Operating at the Edge of Il/legality: Systemic Corruption in Mexican Health Care, Rosalynn A. Vega and A. Paulo Maya
Submissions from 2019
'Doing' Llama Face Stew: A Late Moche Culinary Assemblage as a Domestic Dedicatory Deposit, Guy S. Duke
Anthropology's Science Wars : Insights from a New Survey, Mark Horowitz, William Yaworsky, and Kenneth Kickham
Mexicanismo: Francisco Javier Clavigero and the Jesuit expulsion of 1767, Francisco Ortiz Jr.
Investigación Arqueológica: Sitio Buen Suceso, Comuna Dos Mangas, Provincia de Santa Elena. Informe Suplemental., Sarah M. Rowe and Guy S. Duke
Coming of Age in the Rio Grande Valley: Race, Class, Gender, and Generations in Narco Culture, Rosalynn A. Vega
Converging Space and Producing Place: Social Inequalities and Birth Across Mexico, Rosalynn A. Vega
Isabel M. Córdova, Pushing in Silence: Modernizing Puerto Rico and the Medicalization of Childbirth (Austin, TX: University of Texas Press, 2017), pp. 234, $29.95, pb., Rosalynn A. Vega
Syndemics: Considerations for Interdisciplinary Research, Rosalynn A. Vega
WHAT'S OUT THERE (Review of A Portrait of Assisted Reproduction in Mexico: Scientific, Political, and Cultural Interactions, by Sandra P. González-Santos), Rosalynn A. Vega
Submissions from 2018
The Cavalry of Christ: The Catholic Church and South Texas (1821-1882), Francisco Ortiz Jr.
La memoria contra la jerarquía: Excavaciones en Buen Suceso, Sarah M. Rowe
Investigación Arqueológica: Sitio Buen Suceso, Comuna Dos Mangas, Provincia de Santa Elena. Informe Preliminar., Sarah M. Rowe and Guy S. Duke
How Natural Birth Became Inaccessible to the Poor, Rosalynn A. Vega
Medical Migration As Access To Health Care In The Rio Grande Valley, Rosalynn A. Vega
Medical mobility and intersectionality across the United States-Mexico border [La movilidad médica y la interseccionalidad en la frontera entre Estados Unidos y México], Rosalynn A. Vega
Submissions from 2017
Diabetes Screening and Prevention in a High-Risk, Medically Isolated Border Community, Ann V. Millard, Margaret A. Graham, Nelda Mier, Jesus Moralez, Maria Perez-Patron, Brian Wickwire, Marlynn L. May, and Marcia G. Ory
Childbirth and medical pluralism in multiethnic Mexico, Rosalynn A. Vega
Racial i(nter)dentification: The racialization of maternal health through the Oportunidades program and in government clinics in México, Rosalynn A. Vega
Seth Holmes, Fresh Fruit, Broken Bodies: Migrant Farmworkers in the United States (Berkeley, CA: University of California Press, 2013), Rosalynn A. Vega
War in the feudal zone: state failure and the abandonment of anthropological research in Mexico and Central America, William Yaworsky and Dawid Wladyka
Submissions from 2016
Chocolate on the Borderlands of New Spain, Margaret A. Graham and Russell K. Skowronek
Cinnamon, Ceramics, and Silks: Tracking the Manila Galleon Trade in the Creation of the World Economy, Russell K. Skowronek
Cinnamon, Ceramics, and Silks: Tracking the Manila Galleon Trade in the Creation of the World Economy, Russell K. Skowronek
Locally-made or Imported? Identifying Ceramic Composition Variation in the San Francisco Presidio Jurisdiction, Russell K. Skowronek, M. James Blackman, and Ronald L. Bishop
Commodifying Indigeneity: How the Humanization of Birth Reinforces Racialized Inequality in Mexico, Rosalynn A. Vega
Hacia la justicia sociocomunicativa: trabajo de campo multi-situado, teoría transnacional e hiper-auto-reflexividad, Rosalynn A. Vega
Submissions from 2015
Environmental Justice and Community-Based Participatory Research in Texas Borderland Colonias, Adelita G. Cantu, Margaret A. Graham, Ann V. Millard, Isidore Flores, Meaghan K. Mugleston, Iris Y. Reyes, and Ester C. Carbajal
Re-visiting the field: Collaborative archaeology as paradigm shift, Patricia A. McAnany and Sarah M. Rowe
Mapping Indigenous Self-Determination in Highland Guatemala, Patricia A. McAnany, Sarah M. Rowe, Israel Quic Cholotio, Evelyn Caniz Menchu, and Jose Mendoza Quic
Neoliberalism, Interrupted. Edited by Mark Goodale and Nancy Postero. Stanford: Stanford University Press, 2013. Pp. 317, Rosalynn A. Vega
Gender and Politics Among Anthropologists in the Units of Selection Debate, William Yaworsky, Mark Horowitz, and Kenneth Kickham
Origins of Tejanos and Vaqueros, Antonio Zavaleta
Submissions from 2014
Archival Research and Historical Archaeology, Russell K. Skowronek
Submissions from 2012
Did the Panamanian Defense Forces conduct infiltration operations at the Arraijan Tank Farm in 1988?, William Yaworsky
Who Participates in Mexico's Program for Migrant Agricultural Workers? Explaining the Distribution of Sending Communities in Ahuacuotzingo, Guerrero, William Yaworsky and Kenneth Kickham
Submissions from 2011
Pilot of a Diabetes Primary Prevention Program in a Hard-to-Reach, Low-Income, Immigrant Hispanic Population, Ann V. Millard, Margaret A. Graham, Xiaohui Wang, Nelda Mier, Esmeralda R. Sanchez, Isidore Flores, and Marta Elizondo-Fournier
Land Grab or Legal Title Transfer? Reviewing the Evidence for Land Title Fraud in 19th Century South Texas, Elmer Sierra, William R. Yaworsky, and Amy Frazier
Submissions from 2009
Locally-made or Imported? Identifying Ceramic Composition Variation in the San Francisco Presidio Jurisdiction, Russell K. Skowronek, M. James Blackman, and Ronald L. Bishop
The Pull of the Marketplace: Colonia Growth and Regional Migration in Guerrero, Mexico, William Yaworsky and Kenneth Kickham
Submissions from 2008
Mexican Justice: Codified Law, Patronage, and the Regulation of Social Affairs in Guerrero, Mexico, Chris Kyle and William Yaworsky
Submissions from 2006
Marketing Systems and Insurgency in Western Guatemala, William Yaworsky
Submissions from 2005
At the Whim of the State: Neoliberalism and Nongovernmental Organizations in Guerrero, Mexico, William R. Yaworsky
Submissions from 1998
The Spanish Philippines: Archaeological Perspectives on Colonial Economics and Society, Russell K. Skowronek